Knowing how to use the First Bank transfer code to send money to another bank can save you a lot of time.
Your transfer will be made to banks like GTB, UBA, Diamond Access, First City Monument Bank, Zenith, Kuda, to name but a few.
This means you won't always have to go to the bank, or ATM, or use a mobile app to transfer money each time you want to transact.
? QUICK ANSWER
The First Bank transfer code is *894#
On that note, we'll show you how to create or set the First Bank Nigeria transfer shortcode and the process that's involved in using the USSD code.
It's also worth noting that this is an offline process (it works without the internet) but there's an online technique that will also enable you to transfer money swiftly.
Walk with us and we'll guide you through the whole process.
What's the First Bank Transfer Code?
The First Bank transfer code is *894#.
What can you do with this code?
The First bank money transfer code above will grant you access to quick banking services such as:
Applying for a loan
Purchasing airtime
Opening an account with First Bank
Sending money to other banks in Nigeria
Let's take a quick look at each.
1.  Apply for a loan:
It's entirely possible to borrow from First Bank using the USSD code (if you're eligible).
Interestingly, First Bank gives an instant loan, which means your account will be funded with the amount you requested on the same day.
This lending feature is called FirstAdvance.
But there's a catch!
First Bank customers who are salary earners and have been paid salaries right from the same account in the past six months can get the loan.
Read Also: Zenith Bank Transfer Code
The maximum amount that can be lent is ₦500,000 and a repayment is made once you receive your next salary.
Would you like to obtain a loan from First Bank using a pin?
Simply dial *894*11#.
The image below shows other features of the FirstAdvance loan from First Bank.
2. Purchase Airtime:
Ran out of data and there's no internet to use the FirstMobile app to purchase airtime? there's still a way out!
A quick dial of the First Bank mobile money code will enable you to top up your airtime whether you're on the MTN, GLO, Airtel, or 9Mobile network.
It gets better!
You can also buy data using the USSD code.
To recharge the number linked to your First Bank account:
To recharge another line (family and friends) not linked to your First Bank account:
Dial *894*Amount*Phone Number#
3. Open an Account with First Bank:
Opening a personal savings account with First Bank using USSD has made banking easier than ever.
No longer will you have to go to banking halls to fill a form and wait for days to get an ATM card since you can now have an account number right from your home or office.
Here's how to get started.
Dial *894#
Type 1 to accept the prompt that N6.98 will be charged for using the service.
Type 2 to select 'Open Account'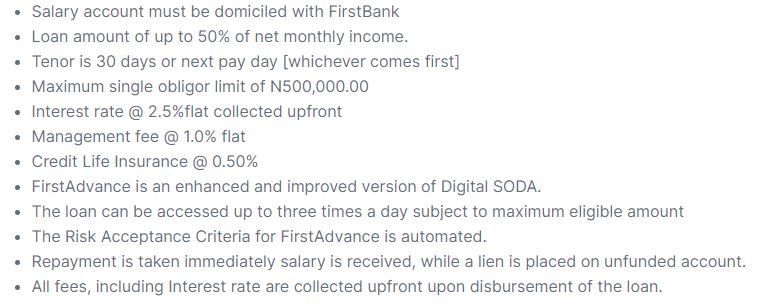 Choose either to 'Open with BVN,' or 'Open without BVN'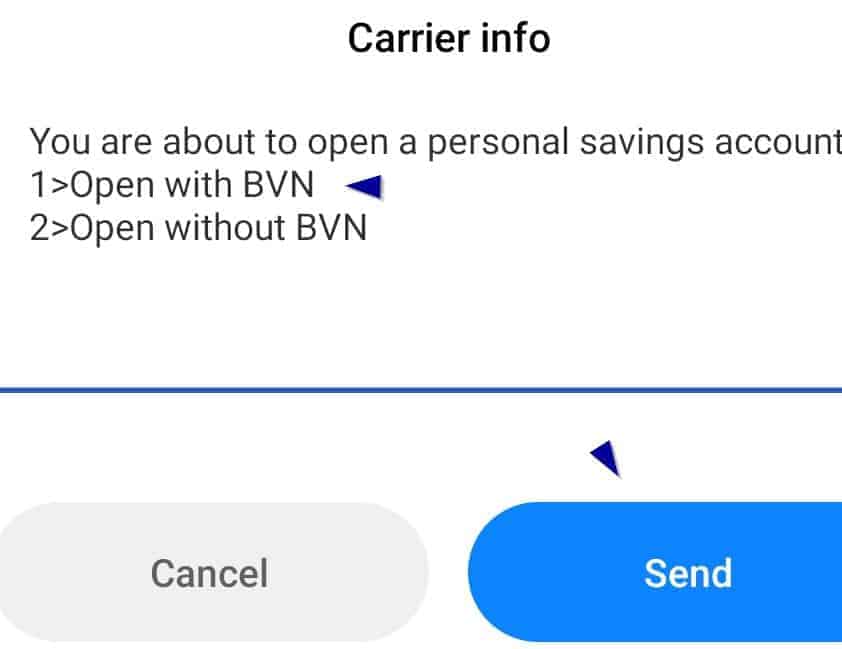 Enter your BVN if you chose the first option
Continue with the registration process.
4. Send Money to Other Banks in Nigeria:
New and existing customers of the First Bank can send money to other Banks in Nigeria using USSD.
There's a wide range of banks you can transfer funds to and these financial institutions are not limited to Access, Guaranty Trust Bank, Zenith, Polaris, Kuda, Paga, OPAY, Rubies MFB, PalmPay Limited, etc.
So, let's take it one step further and show you how you could move money from your account to a family or friend who uses these other banks.
5. Check Balance:
Often times a payment is sent and an alert is not received due to network issues.
Instead of waiting around till whenever you get the message alert when credited or debited, you can simply dial the USSD to check your account balance.
The ability to do this will most especially be appreciated by those who do not have a First Bank mobile app.
With that in mind, you can check your account balance by dialing *894*00#.
How to Use First Bank Transfer Code
Anyone can use the First Bank transfer code if they have an account with this bank, a debit card, and a phone number linked to the account.
Here are simple steps on how to use the First Bank transfer code:
Simply dial *894*0# to get started!
1. Activate Your Account:
The first step to using the first bank transfer code is an activation of one's account.
To do this:
Dial *894*0#
Choose the debit card you want to use for USSD transfers
Enter the four-digit Personal Identification Number (PIN) for the debit card you've chosen to use to activate. (You can call the bank's customer care on 0708 062 5000 if you do not know your PIN.)
You'll be asked to enter a new 5-digit PIN to authenticate transfers from your card.
Your card will be activated if you've entered a new PIN.
And now you're ready to start making offline purchases and payments with your phone.
2. Make a Transfer:
Now that you have successfully enabled mobile banking via USSD, it's time to make your first transfer.
A quick way to send money is by dialing *894*Amount*Account Number#
Keep in mind that 'Amount' has to be replaced with the value you're sending while 'Account Number' has to be replaced with the recipient's bank account number.
The final requirement is to enter the four-digit PIN you have provided while activating the account.
Proceed with the transfer once you've entered the PIN.
What is the 5 Digit Pin for First Bank Transfer?
The 5-digit pin for First Bank transfer is what you'll use to authenticate transfers each time you dial the shortcode.
Recall that when setting up your account for USSD transfers, you are asked to enter your debit card PIN.
This debit card PIN grants you access to create a fresh five-digit PIN that will only be used for USSD transfers.
It, therefore, follows that you must enter the right five-digit PIN each time you want to send money or buy airtime with USSD.
It's also worth noting you can reset your PIN whenever you like by entering the old PIN.
If you've forgotten the old PIN, call customer care or visit the nearest First Bank branch in your area.
Conclusion
The First Bank transfer code allows you to do so much more at your convenience.
Whether it's early in the morning or late at night, you can send money to other banks and buy airtime.
This saves you time to handle other tasks during the day since you no longer have to wait in line at banking halls or ATMs just to send money.
You'll also be enjoying the benefits users of bank apps get from online transfers.
If that's what you want, follow the easy steps we've outlined above to start using the First Bank code to transfer money through the phone.