Interested in Peace Mass Transit price list 2021 and online booking in Lagos, Ibadan, Abuja, Akure, Awka, Benin, Calabar, Enugu, Portharcourt, as with other states in Nigeria?
Work with us as we provide you information pertaining to the listed above and how you too can patronize this transport company.
We've already provided God is Good Motors Price List 2021 and all you need to know about GIGM.
Now it's time to review Peace Mass Transit, its price list, terminals, and even customer care line.
What is the Peace Mass Transit?
Peace Mass Transit (PMT) is a transport company in Nigeria that promises fast and safe travels.
According to the company, it has been in operation for the past 20 years (since 1996) and it offers transportation services for intercity/interstate travelers in Nigeria.
The company also offers bus hiring service that will work based on your travel schedule.
You can also move large goods across the country with this transport company.
PMT services cuts across several states in Nigeria including Lagos, Owerri, Kano, Abakaliki, Enugu, Port Harcourt, Abuja, Umuahia, Ibadan, Akure, Lokoja. Jos, Kaduna, and Yenagoa.
What's more, the company's terminals is spread across different locations in these states.
A state like Lagos has terminals in Ikorodu, Ojuelegba, Oyingbo, Ajegunle, Mazamaza, Ikorodu, Oshodi, Ajah, Sango Ota, Jibowu, Ojota, Ejigbo, Orile, and Ibafo.
But more about that later.
So, who is the owner of Peace mass transit?
Peace Mass Transit is a subsidiary of Peace Group, however, Chief Samuel Maduka Onyishi is the chairman/founder of Peace Mass Transit.
Peace Mass Transit Price List 2021
Here's a detailed outline of Peace Mass Transit price list for 2021:
Afikpo Terminal
Afikpo – Enugu: ₦1,350
Afikpo – Abuja: ₦6,550
Afikpo – Aba: ₦1,550
Afikpo – Port Harcourt: ₦2,050
Afikpo – Abakaliki: ₦950
Ajegunle Terminal
Ajegunle – Enugu: ₦6,750
Ajegunle – Abakaliki: ₦6,750
Ajegunle – Umuahia: ₦6,750
Ajegunle – Aba: ₦6,750
Ajah Terminal
Ajah – Port Harcourt: ₦7,750
Ajah – Enugu: ₦7,750
Ajah – Owerri: ₦6,750
Ajah – Onitsha: ₦7,750
Aba Terminal
Aba to Abuja ₦6,450
Aba – Onitsha ₦1,450
Aba – Yenegoa ₦1,650
Aba – Calabar ₦2,150
Aba – Enugu ₦1,550
Aba – Ibadan ₦5,750
Aba – Nnewi ₦1,350
Ejigbo Terminal
Ejigbo – Onitsha ₦5,750
Ejigbo – Obollo Afor ₦6,750
Ejigbo – Enugu ₦6,750
Gwagalada Terminal
Gwagalada – Nsukka ₦5,050
Gwagalada – Enugu ₦5,450
Gwagalada – Onitsha ₦5,950
Gwagalada – Aba ₦7,750
Gwagalada – Lagos ₦8,250
Ibadan Terminal
Ibadan – Abuja ₦11,250
Ibadan Terminal Ibadan – Aba ₦9,550
Ibadan Terminal Ibadan – Onitsha ₦8,550
Ikorodu Terminal
Ikorodu – Abuja ₦7,750
Ikorodu – Port Harcourt ₦7,250
Jibowu Terminal
Jibowu – Kaduna ₦11,250
Jibowu – Aba ₦8,750
Jibowu – Abuja ₦10,250
Jibowu – Enugu ₦8,250
Maraba Terminal
Maraba – Lagos ₦8,750
Maraba – Enugu ₦5,950
Maraba – Nsukka ₦4,950
Maraba – Jos ₦2,550
Ojuelegba Terminal
Ojuelegba – Owerri ₦7,050
Ojuelegba – Kaduna ₦10,750
Ojuelegba – Uyo ₦8,750
Yenegoa Terminal
Yenegoa – Benin ₦1,550
Yenegoa – Lagos ₦5,150
Peace Mass Transit Terminal
Peace Mass Transit terminal in Lagos, Abuja, Portharcourt, Warri, and other locations has been detailed below:
Aba Terminal
Physical address: 13, Asa Road, Aba, Abia State
Contact: 08055091828
Abakaliki Terminal
Physical Address: 25A, Afikpo Road Abakaliki, Ebonyi State.
Contact:08055091816
Abakpa Terminal
Physical address: Liberty Junction, By Ogwuago/Obinagu Road, Abakapa, Enugu StateContact: 08056697088
Afikpo Terminal
Physical address: 7, Ngodo Road, Amangbalia, Afikpo North, Ebonyi State
Contact:07055792617
Ajah Terminal
Physical Address: Ajiwe, Opposite Micheal and Solomon House, Ajah, Lagos State
Contact:07055792630
Ajegunle Terminal
Physical address: 6, Achakpo Street, Off Mba Street, Ajegunle, Lagos State
Contact: 08056697070
Akure Terminal
Physical address: Ife-Ibadan Expressway, Along Ife Road, Opp. Swan Hotel, Akure, Ondo State
Contact: 08056697069
Asaba Terminal
Physical address: Asaba
Contact: 08055091810
AMARARABA Terminal in Abuja
Physical address: By last Bus stop, Keffi Road
Contact: 08055091822
BWARI Terminal in Abuja
Physical address: sahagari Road, Opposite Market
Contact: 08056697034
GWAGWALADA Terminal in Abuja
Physical Address: Opposite Brifina Hotel, Gwagwalada, AbujaContact: 08055091833
KUBWA Terminal, Abuja
Physical address: Kubwa
Contact: 08055091830
KUJE Terminal in Abuja
Physical address: Gwagwalada Road, Near Secretariat Junction, Kuje, Abuja.
Contact: 08055091858
UTAKO Terminal in Abuja
Physical Address: 39 Ajose Adeogun Street, Utako, FCT, Abuja Contact: 08055091829
ABUJA, ZUBA
Physical address: Zuba
Contact: 08055091831
Benin Terminal
Physical address: 117, Akpakpava Road, By 2nd Junction, Benin City, Edo State
Contact:08056697034
Bwari Terminal 9
Physical address: Shagari Road, Opposite Market, Bwari, Abuja
Contact: 08056697034
Calabar Terminal
Physical address: 56, Bedwell Street, Behind WATT Market, Calabar, Cross River
Contact: 08055091834
Demorose Terminal
Physical Address: 106, Old Ojo Road, Near Agboju Market, Church Bus Stop, Lagos State
Contact: 08056697004
Ejigbo Terminal
Physical address: Ilepo Bus-Stop, Ejigbo, Lagos State
Contact:08056697005
Enugu Terminal
Physical Address: Enugu
Contact: 08012345678
Enugu, Abakpa Terminal
Physical address: Abakpa
Contact: 08056697088
Enugu, Garki Terminal
Physical Address: Opposite Garki Market, Enugu
Contact: 07055794026
Enugi-Ezike Terminal
Physical Address: Enugu-EzikeContact: 08055091832
Ojota Terminal
Physical address: Flyover Bridge, Ketu Road, Beside Biode Garage, Ojota, Lagos State
Contact: 08150461820
Ojuelegba Terminal 9/10
Physical Address: Western Avenue, Ojuelegba Roundabout, Opp. Abalti Barracks, Lagos State
Contact:08055091827
Oshodi Terminal
Physical address: Charity Bustop, Opp. Army Resettlement Centre, Lagos State
Contact: 08056697095
Orile Iganmu Terminal 10
Physical address: Badagry Expressway, By Church Bustop, Orile Iganmu, Lagos State Contact: 08055091826
Enugu Terminal 1
Physical address: Christ Chemist Roundabout, Enugu State
Contact: 08055091825
Ibadan Terminal
Physical address: Samonda Old Airport, UI, Sango Ibadan Contact: 08055091851
Ibafo Terminal
Physical Address: Near Ibafo, Police Station, Opposite Internal Revenue, Ibafo, Ogun State Contact: 08056697049
Ikorodu Terminal9
Physical address: Sagamu Road, Ikorodu, Lagos State08056697002
Port Harcourt Terminal
Physical address:Opposite Bori Camp, Rumuola, Port Harcourt.
Contact: 08055091822
Ilorin Terminal1
Physical address: Ogba Dam Road, Opp. Stella Obasanjo Hall, Offa Garage Road, Ilorin, Kwara State. Contact: 08055091849
Jibowu Terminal
Physical address: 7, Ikorodu Road, By Traffic Light, Opposite Chisco Motors, Jibowu, Lagos State
Contact: 08056697003
Jos Terminal
Physical Address: Terminus Market, Jos
Contact: 08055091842
Kaduna Terminal
Physical Address: Plot 1416, Command Junction, Along Nnamdi Azikwe Expressway, Kaduna State Contact: 07055792632
Nyanya Terminal
Physical address: Nyanya, AbujaContact: 08056697087
Maza-maza Terminal
Physical Address: Maza-mazaContact: 07055792627
Nnewi Terminal
Physical Address: 4/5 Owerri Road, By Nwafor Orizu Roundabout, Anambra State
Contact: 08056697009
Nsukka Terminal
Physical address: 64, Enugu Road, Nsukka, Enugu State
Contact: 08055091817
Minna Terminal
Physical address: David Mark Road, Opp. INEC Office, Niger State
Contact: 08056697027
Onitsha Terminal
Physical address: 103, Oguta Road, Upper Iweka, Onitsha, Anambra State
Contact: 08055091818
Warri Terminal
Physical address: 118 Warri – Sapele Road, Off Airport Junction, By Orokodudu Junction, Delta State
Contact: 08056697041
Yenegoa Terminal
Physical address: 783, Okutukutu, Mbaiama, Yenegoa, Bayelsa State Contact: 08055091855
Peace Mass Transit Customer care number
Peace Mass Transit Customer care number is +2347007322362
This is the phone number listed on the company's official website.
You can dial this number whether you're in Utako, Warri, Ibadan, etc. if you want to reach out to the company.
On the other hand, the number to dial for complaints and enquiries are:
Enquiry: +2348055492865
Complaint: +2348055091806
The phone numbers above can also be used to track your products if you chose to waybill them using this transport company.
According to the company, its customer care lines are accessible from Monday to Sunday and from 8am to 10pm on these days.
Peace Mass Transit Centers
If you'll rather walk into one of the Peace Mass Transits in your state of local government area, try the following addresses or phone numbers.
Lagos, Jibowu Jibowu 08056697003
NKPOR 09058091602
Owerri-Orji  07055792635
Owerri-Control  09058091128
Lagos, Ikorodu 08056697002
Kano, Koka First Gate, Tesha K
Abakaliki Afikpo Road
Peace Mass Transit Online Booking
Peace mass transit online booking can be done from the company's official website https://www.pmt.ng/ or using its mobile application.
To book from the official website, goto https://www.pmt.ng/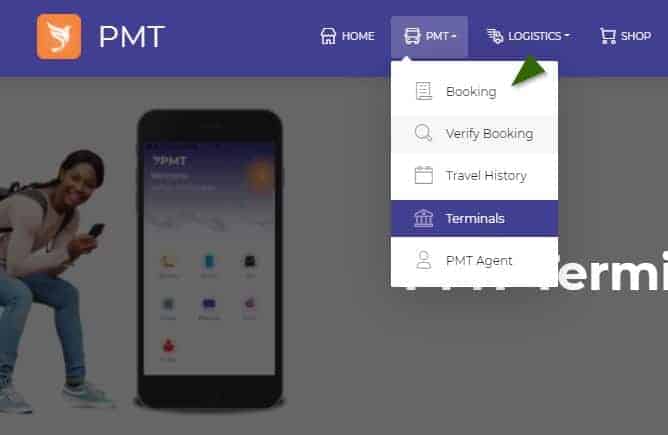 Select the option 'Booking'
Enter your traveling details such as current location, where you're traveling to, and the dates.
Enter the number of passengers or select just '1' if you're booking for only yourself
Click on the button 'Search'
On the next page, select the time you'll like to travel
Next select your seat on the bus
Proceed to register and login to save your information
Finally, make payment using your credit or debit card.
Your booking information will be mailed to you.
On the other hand, you can use the 'Logistics' tab on the website to track your shipments.
Booking online on Peace Mass Transit is even easier when you dowload and install the company's official app, PMT Mobile.
This app is available for Android users and can be accessed on Google Playstore via the link: https://play.google.com/store/apps/details?id=com.pmt.customer
The app comes with features to enable you book directly, hire a bus, check history of your travels and so much more.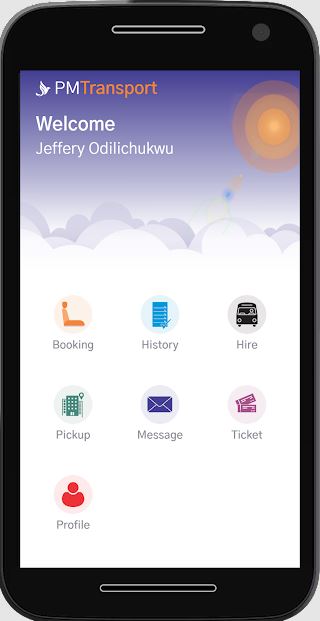 Conclusion
We've covered Peace Mass Transit price list 2021 and online booking in this guide to enable you reserve a seat conveniently if you plan on traveling with this company.
The price for certain destinations varies depending on where you're traveling from and to.
What's more, use the list of terminals we've provided above to find the nearest park in your area to start your journey.
There's also the active customer support lines to call if you encounter issues during your travels.
Use these numbers to make the most of your trip and get the best service from Peace Mass Transit.